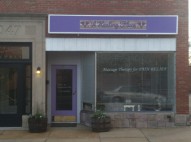 Welcome to A Healing Place, LLC Massage for Wellness
314-346-0096
Located at 1045 S. Big Bend Blvd. Richmond Heights, MO 63117
Call to Schedule Appointment
We are approved to accept HSA and (FSA) Flex Spending Account cards
We believe in taking the most holistic approach possible when it comes to a healthy Mind, Body and our Spirituality. We also believe that stress is a leading cause of cancer and as we know, it is quite prevalent in our society. Massage Therapy is one of the secrets to longevity.
Our mission is to educate clients on the benefits of Massage Therapy and to reduce or eliminate the pain and stress that is trapped within the fascia of the body. Is it so important to move the lymphatic fluids through the intricate network within us known as our Lymphatic System (aka our immune system), this system is designed to detoxify the body by ridding the built up toxins and cleansing the bacteria that produces inflammation. Let the healing begin with a massage designed just for you!
We assess your body's pain patterns and restrictions and then apply various modalities (techniques) creating a client specific massage by using Swedish Massage, Myofascial Release Techniques, Deep Tissue, Cranial Sacral Therapy, Shiatsu and for Seniors Geriatric Massage.
Each and everyday we become more convinced as updated research reveals the benefits of Massage Therapy that our tag line holds true, "Every "BODY" Needs a Massage"! Doctors, Nurses, Musicians, Lawyers, Athletes, Care Providers, Office workers, Pilots, Psychologists and many other professions represent our daily clientele.
Society today is more educated on the benefits of Massage Therapy and more people than ever before are getting regular massages as part of their health regime, not just for special occasions or for pampering. It is the cumulative effects of bringing healing into the body on a regular basis that can never be measured by monetary value.
Come in, de-stress and detox, shut the world out for an hour or more. Connect your mind with your body and let the healing begin. Stress is everywhere and on our tables is where it all starts to get released, afterall it is called A Healing Place for a reason!
I am very proud to say that I graduated from the original Massage Therapy school in Missouri, The Healing Arts Center. I learned from expert instructors, Doctors and highly respected Therapists in the Healing Arts industry.
Take a moment to browse the website and read about the various modalities we offer. We are life learners, you can be assured that we will continue to ad to our Resume' of Techniques.
If you love someone give them the gift of health, gift certificates are available! The Therapists here look forward to bringing the utmost professionalism to our loved and valued clients!
See you soon
Tamara Dobson, LMT, NCTM (Owner)
Like us on Facebook https://www.facebook.com/ahealingplacestl
Follow us on Twitter http://twitter.com/A_Healing_Place